Get up to KSh.50,000/=
Access fast unsecured Loans from your phone. Set Bill Reminders. Buy Airtime & KPLC Tokens. No Paperwork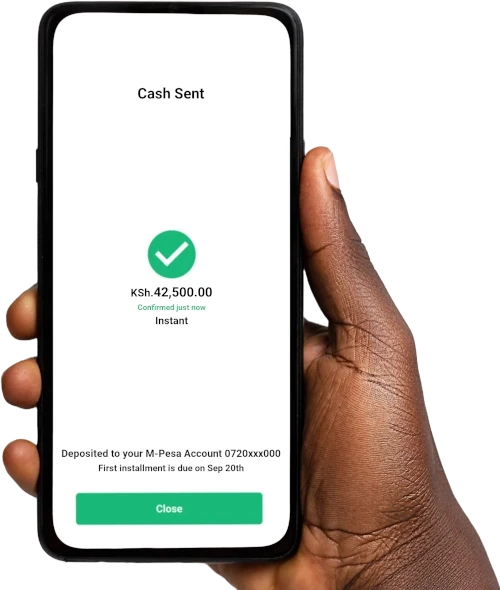 Requesting a Loan From PesaZone

1. Install the App
Enter your details to sign up. Review the terms and proceed to view your limit. Our maximum loan limit is currently KES 50,000/=
2. Request a Loan
Move the slider to select the preferred loan amount and period. Cash will be sent via M-Pesa in ~2 minutes -on average

3. Repay & Grow Your Limit
To repay, use the M-Pesa paybill number 754285, the account number is the phone number you registered with
Questions?
Contact us
Send us a message and we'll get back to you as soon as possible.
About Us
PesaZone™ is an online lender providing instant unsecured loans to trustworthy individuals.
Everyone needs a reliable financial partner, that's why we work around the clock to meet your finance needs.
Minimum period: 7days; Maximum Period:90days; Maximum interest rate(APR): 0%
Representative example
Loan Amount: Sh. 10,000; Minimum repayment:7 days; Maximum repayment period: 90 days;
Interest rate: 0%; Facilitation fee: Sh.500; Total loan cost: Sh.10,500

Customers Registered via the App Only
Check Your Loan Balance
Provide the Phone and ID Number you registered with.